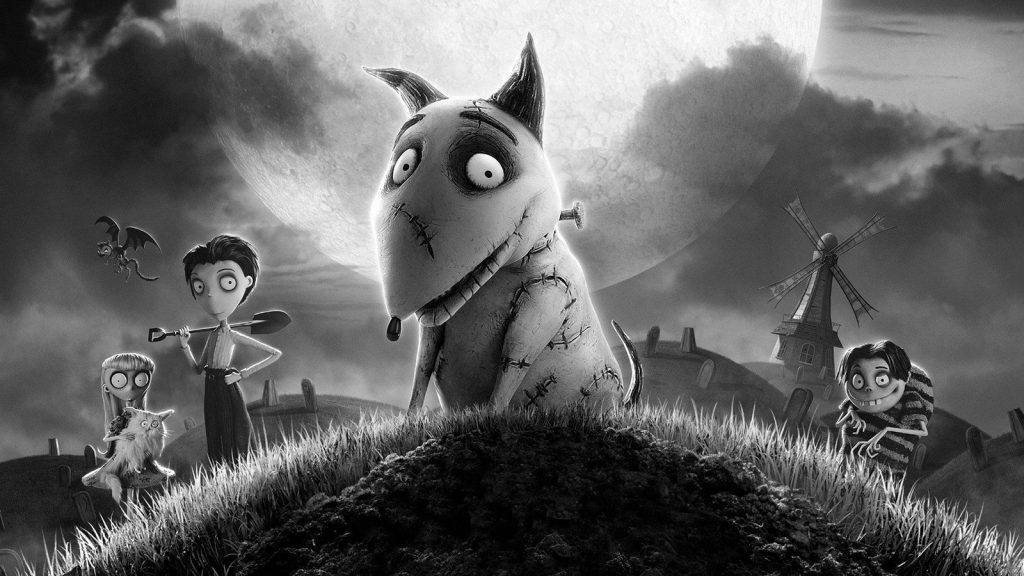 Frankenweenie is a 2012 American 3D stop-motion-animated fantasy horror comedy film directed by Tim Burton and produced by Walt Disney Pictures.
Plot
Young filmmaker and scientist Victor Frankenstein (Charlie Tahan) lives with his parents, Edward (Martin Short) and Susan Frankenstein (Catherine O'Hara), and his beloved Bull Terrier dog, Sparky, in the quiet town of New Holland. Victor's intelligence is recognized by his classmates at school, his somber next-door neighbor, Elsa Van Helsing (Winona Ryder), mischievous, Igor-like Edgar "E" Gore (Atticus Shaffer), obese and gullible Bob (Robert Capron), overconfident Toshiaki (James Hiroyuki Liao), creepy Nassor, and an eccentric girl nicknamed Weird Girl, but communicates little with them due to his relationship with his dog. Concerned with his son's isolation, Victor's father encourages him to take up baseball and make achievements outside of science. Victor hits a home run at his first game, but Sparky, pursuing the ball, is struck by a car and killed.
Inspired by his science teacher Mr. Rzykruski's (Martin Landau) demonstration of the effect of electricity on dead frogs, a depressed Victor digs up Sparky's corpse, brings him to his makeshift laboratory in the attic and successfully reanimates him with lightning.
AWARDS
---
Nominee for Best Animation Feature Film at 85th Academy Awards, 2013
Nominee for Best Animation Feature Film at Annie Awards, 2012
Nominee for Best Animation Feature Film at BAFTA Awards, 2012
CREDITS
---
Directed by Tim Burton
Written by John August, Tim Burton
Produced by Tim Burton, Allison Abbate
Animation Director Trey Thomas
Animation Supervisor Mark Waring